When:
June 24, 2017 @ 20:00
2017-06-24T20:00:00+02:00
2017-06-24T20:15:00+02:00
BOG // Mountain // 00y 18
Saturday, June 24, 2017 – 20:00
BOG ALBUM RELEASE SHOW:
On 24th of June we are going to release our debut-album "Unshriven" and we want to celebrate this big day together with all of you, so: we are going to play an exclusive album release show in Vienna at Venster99.
We're going to play new songs and we bring along BOG merch, CDs and welcome-gifts for everyone of you! The entry will be "pay what you want".
Special guest will be our beloved friends and post-experts Mountain and 00y 18.
Bring your friends and family – this is going to be a special night – we can't wait!
BOG – "Unshriven" – 2017:
With Unshriven, songwriter Tim Primbs memorialises a young, seriously ill woman he met in the last weeks of her life. BOGs debut album is an ambivalent construct of hopeful, melancholic melodies and raw, destructive energies creates the emotional sonic images that make the last journey of life comprehensible.
The album surprises with guest musicians from the Austrian post-rock bands Lehnen, Mountain and Cayes and also from the American post-metal band Sól. Will Benoit, known for his work with post-rock bands like Caspian, Junius, City of Ships and Lehnen, did the mixing and mastering.
https://www.facebook.com/bogofficial/
https://officialbog.bandcamp.com/
Special Guests:
Møuntain
Lush sonic patterns, bold basslines and austere beats are spun into musical threads, which are woven into sonic landscapes and shape narrative arcs. That is the approach to crafting music that is taken by Mountain – a five-piece instrumental rock-outfit from Villach/Austria.
00y 18
Minimalistic atmospheric sludge from Linz.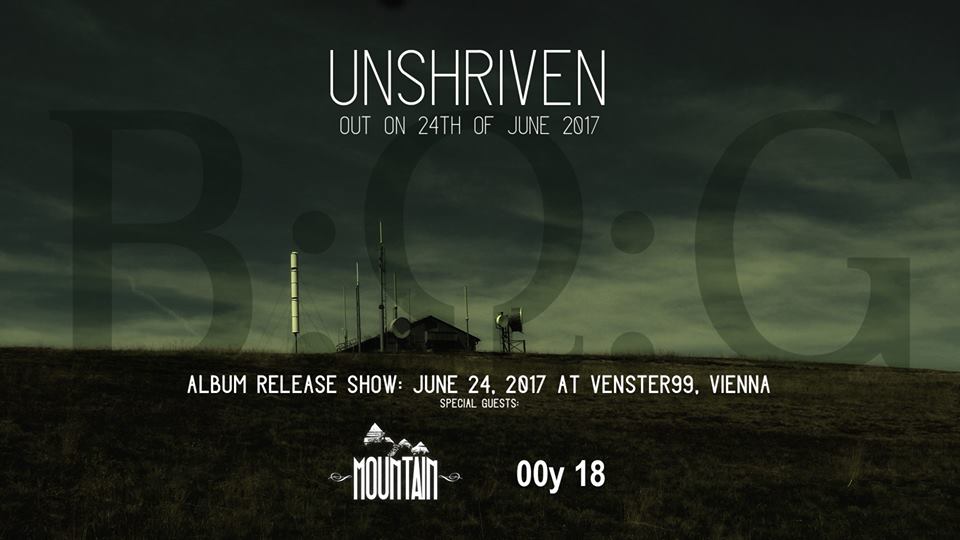 Venster99
Stadtbahnbögen 99
1090 Vienna